"Squad" House Democrats known for criticizing the state of Israel faced massive backlash from conservatives online over their milquetoast statements following Hamas's deadly surprise attack on Israel.
Several members of the informal progressive caucus published statements on Saturday condemning the violence and calling for the conflict to de-escalate.
Of the "Squad" members, Rep. Rashida Tlaib, D-Mich., has been silent on the attack on Israel.
'SQUAD' DEMOCRAT CALLS FOR END OF ISRAEL'S 'GAZA BLOCKADE' AS HE CONDEMNS HAMAS TERROR ATTACKS
Fox News Digital reached out to Tlaib's office for comment on the deadly surprise terrorist attack on Israel but did not receive a response.
Meanwhile, "Squad" queen Rep. Alexandria Ocasio-Cortez, D-N.Y., called for a "ceasefire and de-escalation" after the surprise terrorist attack by Hamas on Israel.
"Today is devastating for all those seeking a lasting peace and respect for human rights in Israel and Palestine. I condemn Hamas' attack in the strongest possible terms," the New York Democrat said.
"No child and family should ever endure this kind of violence and fear, and this violence will not solve the ongoing oppression and occupation in the region," Ocasio-Cortez (AOC) continued.
"An immediate ceasefire and de-escalation is urgently needed to save lives," she added.
Rep. Ilhan Omar, D-Minn., — who has a history of controversial statements about Israel — condemned "the horrific acts we are seeing unfold today in Israel against children, women, the elderly, and the unarmed people who are being slaughtered and taken hostage by Hamas."
"Such senseless violence will only repeat the back and forth cycle we've seen, which we cannot allow to continue," Omar said.
"We need to call for deescalation and ceasefire," she continued. "I will keep advocating for peace and justice throughout the Middle East."
FOX & Friends Weekend co-host Rachel Campos-Duffy criticized Omar in a response to her statement, saying the congresswoman "will never acknowledge that there was peace in the Middle East [and] Europe when Trump was in office."
Conservative commentator John Hasson also blasted Omar over her tweet.
"Notice how she only condemns the acts against 'children, women, the elderly, and the unarmed.'" Hasson wrote. "She's implying that attacking/killing IDF forces is fine."
In 2021, Omar landed in hot water with senior members of her own party as well as her opponents when she compared America and Israel to murderous terrorist groups Hamas and the Taliban, saying the two democracies have committed "unthinkable atrocities."
"We have seen unthinkable atrocities committed by the U.S., Hamas, Israel, Afghanistan, and the Taliban," wrote Omar. "I asked [Secretary of State Antony Blinken] where people are supposed to go for justice."
Additionally, during a 2021 ceasefire between Israel and Hamas, Omar said the fighting stopping wasn't enough and that the U.S. was "underwriting crimes against humanity" through support for Israel and that there needed to be "accountability for every war crime committed."
Amid the 2021 conflict, Omar also accused Israel of engaging in "terrorism" through their airstrikes that tragically killed civilians in the Gaza Strip.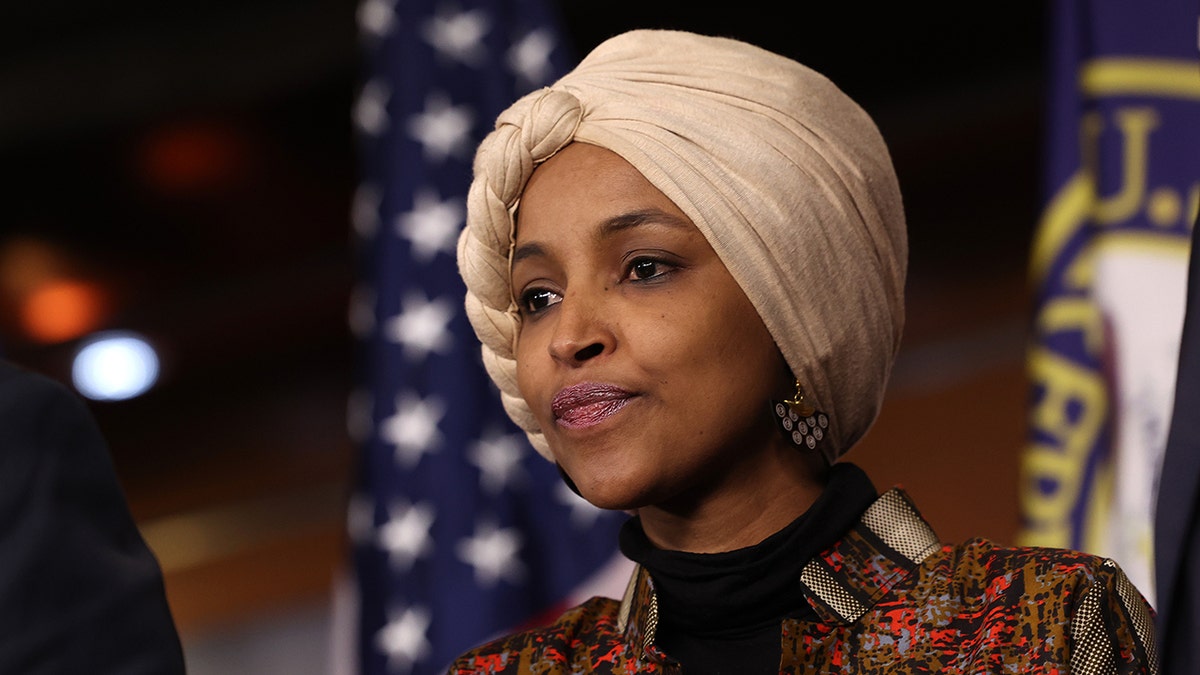 "Israeli air strikes killing civilians in Gaza is an act of terrorism. Palestinians deserve protection. Unlike Israel, missile defense programs, such as Iron Dome, don't exist to protect Palestinian civilians. It's unconscionable to not condemn these attacks on the week of Eid," Omar wrote on Twitter.
In 2019, during her first term in office, Omar came under fire for a since-deleted tweet from 2012, where she wrote "Israel has hypnotized the world, may Allah awaken the people and help them see the evil doings of Israel."
Omar said the "unfortunate words were the only words" she could "think about expressing at that moment" while referring to the Israeli armed forces' 2012 operation against Hamas in Gaza. She also defended the comments while speaking to comedian Trevor Noah on "The Daily Show."
Omar, who previously has expressed regret over that tweet, responded by saying she had to "take a deep breath" and "understand where people were coming from and what point they were trying to make."
Massachusetts Democrat Rep. Ayanna Pressley tweeted these "devastating attacks on Israelis are deeply alarming and my heart breaks for the victims [and] their loved ones."
"We need an immediate ceasefire & de-escalation. It is long past time to stop this cycle of violence [and] trauma, and work toward a just [and] lasting peace in the region," Pressley wrote.
Conservative commentator known online as Comfortably Smug criticized the "Squad" in a response to Pressley's tweet.
"The squad telling Israel to stand down after it was attacked and hundreds of its citizens were massacred," he wrote. "Incredible."
New York Democrat Rep. Jamaal Bowman took to social media Saturday to call for an end to the Gaza blockade and condemned the Iranian-backed Hamas terrorist attack on Israel.
"I strongly condemn the horrific attacks by Hamas and am saddened by the loss of precious lives, especially on the holy day of Simchat Torah," Bowman said in a statement, which was shared to social media.
"We need a way to end this deadly violence that is killing and traumatizing generations of Israelis and Palestinians alike — including the blockade of Gaza," he added. "I have been to the Gaza border and know that Israelis and Palestinians are constantly living in fear. We must work harder to ensure peace in the region."
As new developments are made, Bowman, who made headlines recently after he pulled a fire alarm in Congress amid a vote to keep government open, said he and his team will be monitoring the situation closely, "especially since several of our Westchester service members are in the area of attacks."
Conservative radio host Jason Rantz tweeted that "Bowman can't merely condemn terrorism."
"He has to include his ignorant criticism of Israel," Rantz said.
Bowman has been criticized for his position toward Israel, and was one of nine progressives who voted against a resolution affirming Israel was not a racist or apartheid state earlier this year.
In recent weeks there have been protests in Gaza backed by Hamas against economic blockade of the region, which leaders described as aggressive.
"If there's to be an explosion, let it be against the party that created these conditions, which is the (Israeli) occupation," senior Hamas official Bassem Naim said earlier this wee, Reuters reported.
CLICK HERE TO GET THE FOX NEWS APP
Iranian-backed Hamas terrorists invaded areas of southern Israel as rocket barrages launched from the Gaza Strip struck the area on Saturday, killing over 200 Israelis. 
A senior Hamas military commander, Mohammad Deif, announced the start of the operation in which he called on Palestinians everywhere to attack the Israelis, saying in a broadcast on Hamas media that the group launched 5,000 rockets. He called the attack "the day of the greatest battle to end the last occupation on earth."
Local Israeli media reported that at least 100 people have been killed in the wide-ranging assault, while Gaza health officials say that 198 Palestinians have died in Israeli air strikes made in response to the Hamas attack. Hospitals are treating at least 985 wounded people, including 77 who were in critical condition, the Associated Press reported based on public statements and calls to hospitals.
Fox News Digital's Kyle Morris contributed reporting.