Sen. Tim Scott, R-S.C., said Saturday that the U.S. must stand "shoulder-to-shoulder" with Israel after the ally was rocked by a devastating terrorist attack from Hamas, while also criticizing what he says is "weakness" by the Biden administration.
Scott, who is running for the Republican presidential nomination, said in an interview with Fox News Digital, that U.S. must condemn the attack, pray for peace in the Middle East and tell Prime Minister Benjamin Netanyahu that the U.S. stands "shoulder to shoulder and back to back" with Israel.
"There's no daylight between the two nations. We should ask him what he needs and be prepared to deliver."
AT LEAST 100 DEAD AS HAMAS LAUNCHES UNPRECEDENTED ATTACK ON ISRAEL, NETANYAHU SAYS NATION IS 'AT WAR' 
He also said he listed the things he would do as president to encourage and support Israel in their fight against terrorism.
"One thing I would do is encourage Israel to stand up, to never back down, to never sit down, and to know that we are with them and I would mobilize the Sixth Fleet. Make sure that they were prepared to provide assistance to the nation of Israel. The next thing I would do is make sure that the IDF would have our full support and we would back them and be ready and willing to provide resources and weaponry in this war, as Netanyahu has called it."
Scott has taken aim at the Biden administration for unfreezing $6 billion in funding for Iran, saying the release of those funds had "paid" for the attack. The claim made by a number of Republicans drew a rebuke from the Biden administration, which called it "false and misleading." The administration said the money can only be used for humanitarian purposes and has so far not been spent.
"Not a penny has been spent, and it will never go to Iran—it can only be used for future humanitarian-related purposes. Any suggestion to the contrary is false and misleading," a State Department spokesperson said.
Speaking to Fox, Scott doubled down, pointing to comments made by the Iranian president, who said the money will be spent "wherever we need it."
ISRAELI PM NETANYAHU DECLARES 'WAR' AFTER HAMAS TERRORISTS LAUNCH MASSIVE ATTACK: LIVE UPDATES
"They thought that the comment was laughable, they're serious about funding Hamas. They're serious about funding terrorism," he said.
 Scott also said that "weakness" in foreign policy from the administration had "invited the attack." He called for a 180-degree turn from the administration's stance.
"We have to go back and take a look at the cookie crumbs where they lead," he said. 
REPUBLICANS BLAST BIDEN FOR RELEASING $6 BILLION IN FROZEN IRAN FUNDS AHEAD OF HAMAS ATTACK ON ISRAEL 
He cited the "abysmal withdrawal" from Afghanistan, as well as statements by Biden about U.S. involvement if Russia engaged in what Biden called a "minor incursion" ahead of the Ukraine conflict as signs of weakness.
"What we know is that all of that combined together is weakness, it's like having blood in the water, and that attracts bad actors to do more bad things," he said. "I think the cookie crumbs themselves tell us that the Biden administration has consistently postured themselves from a position of weakness and from a philosophy of being a pacifist. That needs to be turned 180 degrees."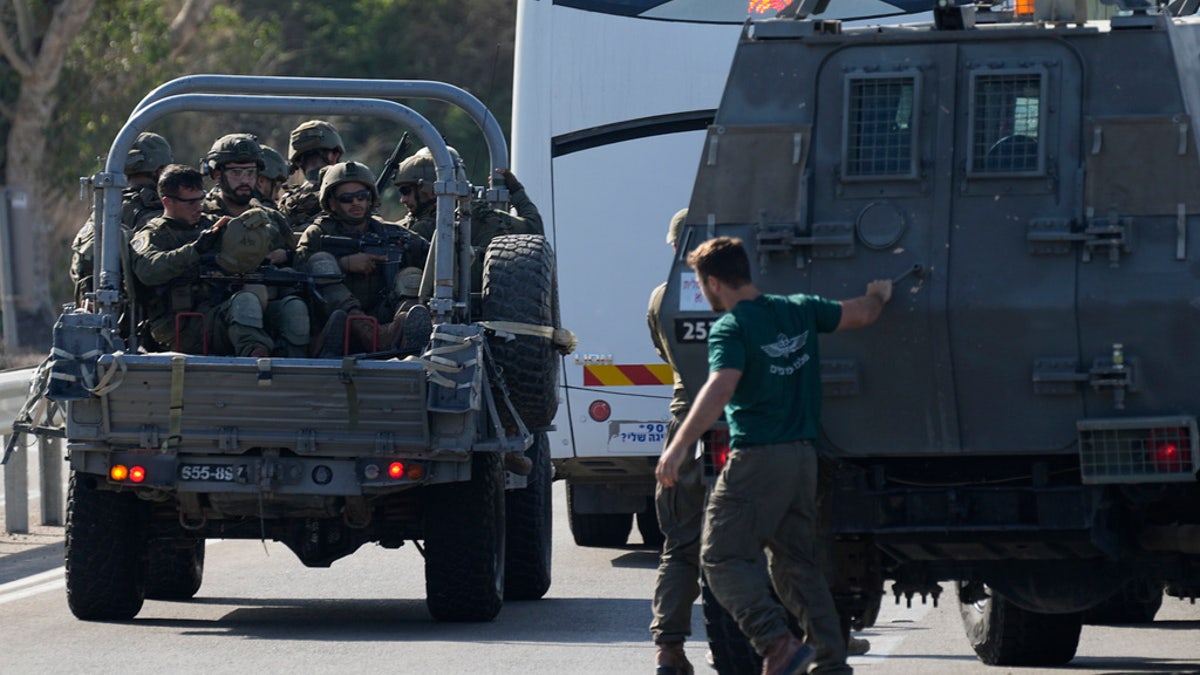 He said the U.S. should not limit the scope of the Israeli response in terms of going after those who perpetrated the attack.
"They have the power of the United States standing behind them so as they move forward, they should know they have the wind beneath their wings because we will be with them. This is an absolute responsibility and a necessity that Israel responds and it responds aggressively, and we should not put any limits on their reaction," he said.
The Biden administration reiterated its support for Israel, including military aid, Saturday afternoon. "The United States stands with Israel, we will not ever fail to have their back. We'll make sure they have the help their citizens need and they can continue to defend themselves," Biden said Saturday.
Scott also said that America must be prepared to engage in conflicts in three different regions of the world and stand by its allies when necessary.
"We do not control world affairs. We cannot be the world's police, but we must be loyal to our allies and lethal to our adversaries," he said.
CLICK HERE TO GET THE FOX NEWS APP
The Biden administration has condemned the attack, and said that it stands with Israel. President Biden spoke publicly from the White House about the attack on Saturday afternoon.
"I want to say to them and to the world and to terrorists everywhere, the United States stands with Israel, we will not ever fail to have their back," he said. "We'll make sure that they have the help their citizens need and they can continue to defend themselves."
Fox News' Chris Pandolfo contributed to this report.