Former House Speaker Nancy Pelosi, D-Calif., on Friday denied that she had promised to support her fellow Californian Rep. Kevin McCarthy as he was ousted as speaker.
"Kevin McCarthy says that you essentially broke a promise to him to keep Democrats with him if there was a vote against him. Is that not true?" FOX 11 Los Angeles anchor Elex Michaelson asked Pelosi in a recent interview. 
Shaking her head, Pelosi said she had never promised to help McCarthy, R-Calif., remain as speaker.
"Not really. I had no promise to him," Pelosi told FOX 11. "Our Democratic members made that decision." 
GOP LAWMAKERS DENY REVENGE PLAY AGAINST PELOSI WITH OFFICE EVICTIONS AFTER MCCARTHY OUSTER
McCarthy lost the speaker's gavel this week after a handful of hardliners in the Republican conference led by Rep. Matt Gaetz, R-Fla., forced a vote to vacate the chair. Eight Republicans and every Democrat voted together to remove McCarthy as House speaker. 
At a press conference after the vote, McCarthy blamed Democrats for his ouster, arguing they should have voted against the motion to vacate the chair for institutional reasons.
McCarthy claimed to have had a discussion with Pelosi in the days leading up to the vote and told reporters she had promised to support him.
But Pelosi said Democrats had numerous reasons to vote to oust McCarthy, citing the Republican-led impeachment inquiry into President Biden and McCarthy's support for former President Donald Trump after the Jan. 6, 2021, riot at the U.S. Capitol. 
NANCY PELOSI EVICTED FROM HER PRIVATE OFFICE IN THE CAPITOL BY INTERIM HOUSE SPEAKER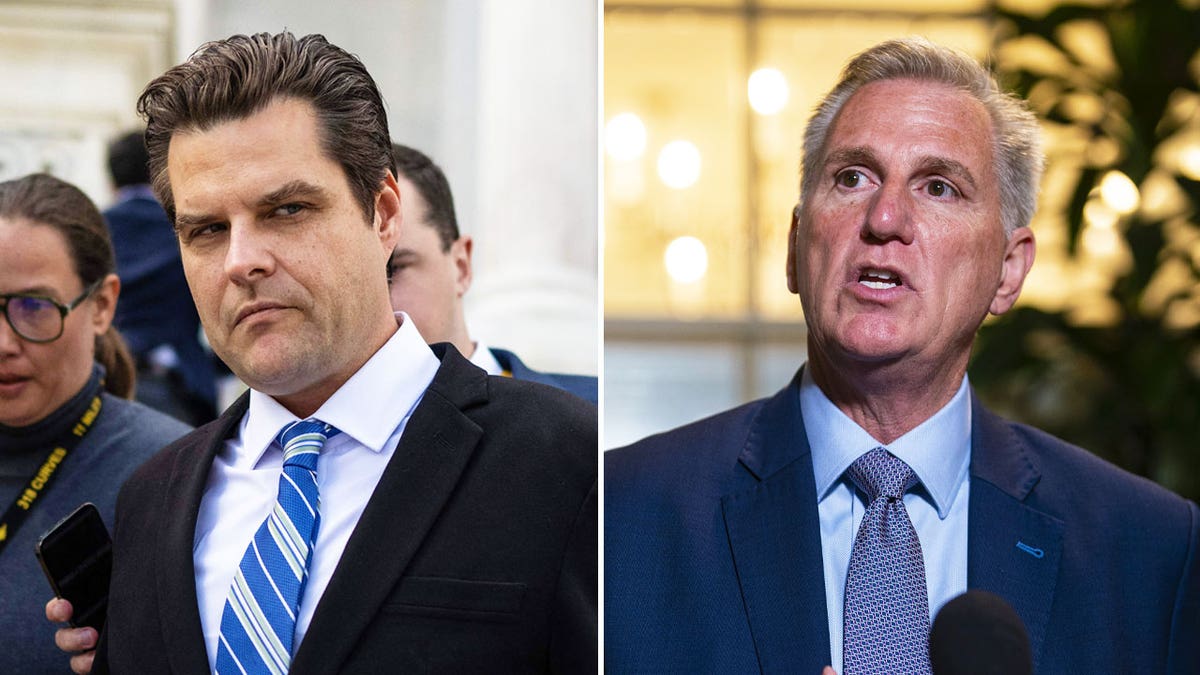 "If you don't respect the institution then don't expect us to bail you out," she said.
McCarthy has since said he will not run for speaker again. On Friday, he denied reports that he will resign from Congress, saying, "I'm not resigning. I got a lot more work to do." 
McCarthy was succeeded by Speaker Pro Tempore Patrick McHenry, R-N.C., a temporary replacement until the House votes on a permanent one next week. Among his first acts as speaker pro-tempore, McHenry evicted Pelosi from her private Capitol office in what was claimed to be an act of retaliation after McCarthy was ousted.
However, several GOP lawmakers told Fox News Digital that the evictions were not rooted in vengeance, but rather because the office is reserved for the immediately preceding speaker.
WHO IS PATRICK MCHENRY, SPEAKER PRO TEMPORE OF HOUSE FOLLOWING MCCARTHY'S OUSTER?
"This was a decision by Speaker Pelosi in getting removed because that is the office for the former speaker," Louisiana GOP Rep. Garret Graves told Fox News Digital on Wednesday.
"She's no longer the immediately preceding speaker so that was a decision she made by evicting Kevin McCarthy," Graves continued. "That was her own decision."
CLICK HERE TO GET THE FOX NEWS APP
House Freedom Caucus chairman Scott Perry, R-Pa., said the evictions were not done in revenge but that it seems to him "unfortunately that we have an unexpected recent vacancy in this with the speaker's office and that speaker that's been recently the speaker now has to have a place per the rules."
"So that [place] needs to be reoccupied or occupied by somebody different," Perry said. "That's just the that's just the flow of business here."
Fox News' Houston Keene contributed to this report.