The Florida State Seminoles host the Virginia Tech Hokies this Saturday for an ACC showdown. Jordan Travis leads the surging Seminoles offense, averaging 43.3 points per game. The Seminoles add receivers Ja'Khi Douglas and Deuce Spann back into the mix this weekend, which could prove even more of an obstacle to the Hokies. 
Travis has thrived despite the lack of depth at receiver. FSU head coach Mike Norvell is looking forward to seeing what Travis and the entire Seminoles offense can do with a fully loaded roster.
"I'm excited to see those guys get out on the field, and I think they're going to continue to build to our depth and to the playmaking ability that we have," said Norvell. "Definitely excited for what they're going to bring here as we continue on in the year."
Victory for the Seminoles, however, will be anything but easy. Virginia Tech quarterback Kyron Drones, put on a show last weekend against Pitt– completing 12 of 19 passes for 228 yards and three touchdowns for a 38-21 win.
How to watch the Virginia Tech Hokies vs. Florida State Seminoles NCAA college football game
The Hokies take on the Seminoles, on Saturday, Oct. 7 at 3:30 p.m. ET (12:30 p.m. PT). You can watch the game on ABC, or stream it on ESPN. (Streaming options require an internet service provider.)
Watching the Virginia Tech vs. Florida State game has never been easier, whether you're watching on a TV or mobile device thanks to Sling TV, an easy and inexpensive way to stream the game on ABC.
ABC is included in many cable TV packages. Don't have a cable TV package? One of the most cost-effective ways to get the channel is through a subscription to Sling TV. The streamer offers access to NFL Network, local NBC, Fox and ABC affiliates (where available) and ESPN with its Orange + Blue Tier plan. Also worth noting: Sling TV comes with 50 hours of cloud-based DVR recording space included, perfect for recording all the season's top NFL and college football matchups.
That plan normally costs $60 per month, but the streamer is currently offering a 50% off promotion for your first month, so you'll pay just $30. You can learn more by tapping the button below.
Top features of Sling TV Orange + Blue tier:
There are 46 channels to watch in total, including local NBC, FOX and ABC affiliates (where available).
You get access to most local NFL games and nationally broadcast games at the lowest price.
All subscription tiers include 50 hours of cloud-based DVR storage.
---
Sling TV has a new offering for the 2023 NFL Season called Sports Extra. The new package is designed for NFL and college football fans, with access to NFL Redzone, ESPN, NFL, SEC, ACC, PAC 12, Big10 and Longhorn Networks.
There's a great deal on Sling TV Sports Extra going on right now: You can get five months of Sling TV Orange + Blue + Sports Extra for $274. That works out to just $55 per month, an even better price than subscribing to just the $60 per month Orange + Blue plan. It's the most cost-effective way to stream most NCAA and  NFL games this year.
You can learn more about Sling TV and Sports Extra by tapping the button below.
---
More ways to watch the Week 6 Virginia Tech vs. Florida State game: FuboTV
You can also catch the Saturday's big game on FuboTV. FuboTV is a sports-centric streaming service that offers access to almost every NFL game of the season. Packages include CBS, Fox, NBC, ESPN, NFL Network, NFL RedZone and more, so you'll be able to watch more than just today's games.
To watch college football without cable, start a seven-day free trial of Fubo. You can begin watching immediately on your TV, phone, tablet or computer. 
In addition to college football,  FuboTV offers the NFL, MLB, NBA, NHL, MLS and international soccer games. FuboTV starts at $75 per month for the Pro tier (includes NFL Network); the $100 per month Ultimate tier includes NFL RedZone.
Top features of FuboTV:
The Pro tier includes 169 channels, including NFL Network; the Ultimate tier includes 289 channels, including NFL RedZone.
FuboTV includes all the channels you'll need to watch live sports, including CBS (not available through Sling TV).
All tiers come with 1,000 hours of DVR recording.
---
Stream college football games on Hulu + Live TV
You can watch every college football game with Hulu + Live TV. The bundle features access to 90 channels, including both Fox and FS1. Unlimited DVR storage is also included. Watch every game on every network with Hulu + Live TV, plus you can personalize your viewing experience and Hulu will offer curated recommendations based on the teams and playmakers you follow.
Hulu + Live TV comes bundled with ESPN+ and Disney+. It normally costs $70 per month, but Hulu is offering a special deal for football season: You can now get Hulu + Live TV for just $50 per month for the first three months. Tap the button below to get in on the deal.
---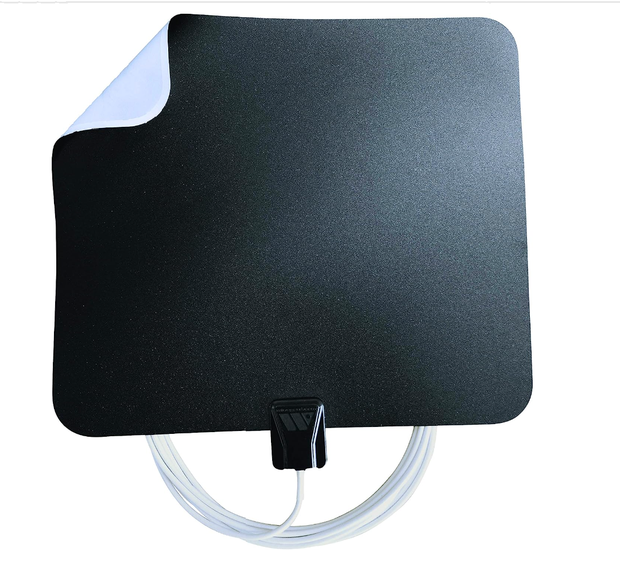 If you're cutting the cord between yourself and your cable company, you're not alone, but you are in luck. You can still watch college football on TV with the assist of affordable indoor antenna, which pulls in local over-the-air HDYC channels such as CBS, NBC, ABC, Fox and PBS.  Here's the kicker: There's no monthly charge.
First-floor apartment dwellers, or anyone living in partially blocked-off area (those near mountains, for example), a digital TV antenna may not pick up a good signal – or any signal at all. But for many homes, a digital TV antenna provides a seriously inexpensive way to watch college football without paying a staggering monthly fee.  ndoor TV antennas can also provide some much-needed TV backup if a storm knocks out your cable (or your cable company gets in a squabble with a network).
This amplified HDTV antenna, claims to have a 50-mile range and offers 36 channels. It's rated 4.0 stars by Amazon reviewers.
Said one Amazon customer, "When the price of this antenna dropped to $50 it was competitively priced with what you would find on the shelves at your local Radio Shack. If you're considering this product, you're probably already questioning your cable television bill and are looking around for a cheap way to get the Big 3 plus Fox and PBS. This antenna delivered that for us right out of the box."
---
More teams to follow during the 2023 college football season

Important dates for the 2023 college football season:
The 13-week 2023 college football season runs from Aug. 27 through Dec. 9.
Two semifinal games, the Rose Bowl Game and the Allstate Sugar Bowl, are scheduled for New Year's Day (Monday, January 1, 2024).
The College Football Playoff National Championship is scheduled for Monday, January 8, 2024 at NRG Stadium in Houston, Texas.
The Georgia Bulldogs want to run it back. The Georgia Bulldogs became just the fifth program to win back-to-back national championships when they beat the Alabama Crimson Tide 33-18 in 2022. Since 1936, no college team has won three-in-a-row. The Bulldogs are hoping to change all that. Head coach Kirby Smart has focused on leadership skills for his players, stating the team's biggest opponent is "complacency." Coming into Week 6, the Bulldogs are undefeated. Three-peat? Anything's possible with this squad.
Were Deion Sanders and the Colorafo Buffaloes a fluke? Coach Prime made headlines during the offseason. Only ten scholarship players from the Buffaloes' 2022-season roster remain on the team after Sanders took advantage of transfer portal rules to revamp the team's roster. Prime's in his first season as the Buffaloes coach and he'll hope to work the same magic on the Buffaloes program as he did in his successful three years at Jackson State.  3-2 and coming into Week 6 after losing two in a row, the Buffaloes have been criticized for having too much swagger. If anyone remembers Sanders' NFL and MLB careers, one knows you can never have too much swagger. This is the team to watch this season even after losing two.
How will all the college football shake ups shake out?
In July 2022, UCLA and USC finally agreed on something. The frenemy rivals would both leave the Pac-12 in favor of the Big Ten in 2024. This summer, Colorado announced it would return to the Big 12. Since then, Arizona, Arizona State and Utah have announced an exodus from the Pac-12 to the Big-12 at the end of the 2023 season. Washington and Oregon State are also ditching the Pac-12 for the Big 10 at the same time. 
The school shuffling won't affect the 2023 season much, but expect journalists to talk about it to no end. With the Pac-12 currently down to just four teams for the 2024 season, the demise of the Pac-12 is sure to be one of the biggest stories of the season.
We're also looking forward to these stories during the 2023 NCAA college football season
The Alabama Crimson Tide came into the 2023 season ranked No. 4. Saban and company aren't comfortable with the demotion. Still not the dominant Bama team fans have come to rely on, the Tide are hoping to be a major threat to the Bulldogs scoring that three-peat. Ohio State has arguably one of the best receiver rooms in college football led by the dazzling Marvin Harrison Jr. The Buckeyes are coming into Week 6 undefeated, but so are the opposing Maryland Terrapins. They face off Saturday in a championship-worthy showdown.
---
Related content on CBS Essentials