It's been five weeks of non-stop coverage of Deion Sanders and the Colorado Buffaloes as the eyes of the college football world have been fully focused on Boulder. 
And rightfully so after Sanders got his revamped roster off to a 3-0 start. 
Colorado defeated TCU, Nebraska and Colorado State to triple its win total from 2022, when the Buffaloes went 1-11. 
But while Colorado is clearly a vastly improved team, reality for the first-year head coach has finally hit. 
WHAT COLLEGE FOOTBALL FANS LEARNED FROM A FUN WEEK 5
The Buffs were blown out by Oregon in Week 4 before falling to USC last Saturday despite a furious second-half rally. 
Colorado heads to Tempe to take on unranked Arizona State, and the college football world will be focused elsewhere. 
So, let's take a look at where the eyes should be as Week 6 of the college football season kicks off. 
No. 3 Texas vs. No. 12 Oklahoma – Noon ET
It's the final edition of the Red River Showdown with both schools as members of the Big 12 conference. 
Both Texas and Oklahoma will depart the conference for the SEC at the conclusion next season. It's the first time both schools have squared off undefeated since 2011. 
The Texas Longhorns have arguably a more impressive record than both Georgia and Michigan, the two teams ahead of the Longhorns in the standings, after beating Alabama on the road in Week 2 and taking down a Top 25 team in Kansas in Week 5.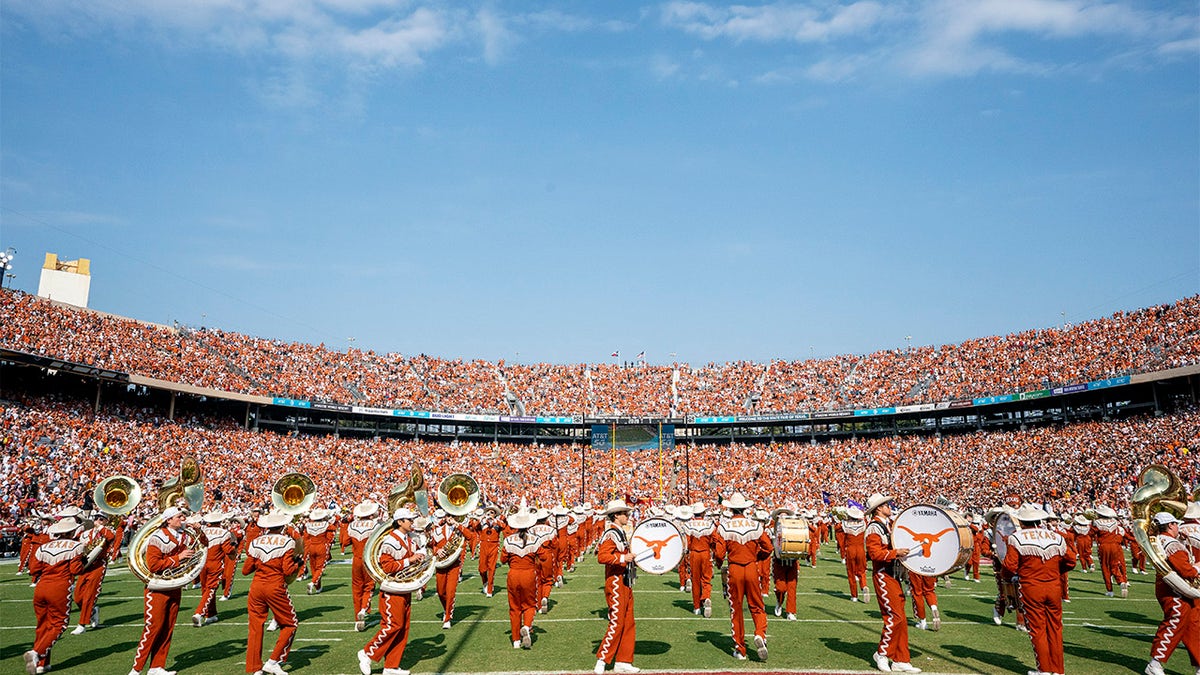 OREGON STATE COACH JONATHAN SMITH ISSUES AN APOLOGY AFTER MAKING 'MILKING' GESTURE DURING GAME AGAINST UTAH
The Longhorns have gotten it done with defense through the first five weeks of the season, holding teams to just 290.8 yards and 12.8 points per game. 
Head coach Steve Sarkisian credited the depth on defense for Texas's early season success. 
"I think it's been huge," Sarkisian said this week of the defense, according to ESPN. "We've gone through first halves of games where we played upwards of 30 guys. Sometimes you don't feel the effect of that rotation in the first half. But, naturally, you look at some of these fourth quarters we've been having now. … I think we're more fresh physically. We're more fresh mentally."
Sarkisian's defense will need to continue to be dominant against an Oklahoma offense that's ranked third in the country in points per game (47.4). 
Led by senior quarterback Dillon Gabriel, the Sooners' passing attack is seventh in the country in yards per game through the air (352.4). 
CLICK HERE FOR MORE SPORTS COVERAGE ON FOXNEWS.COM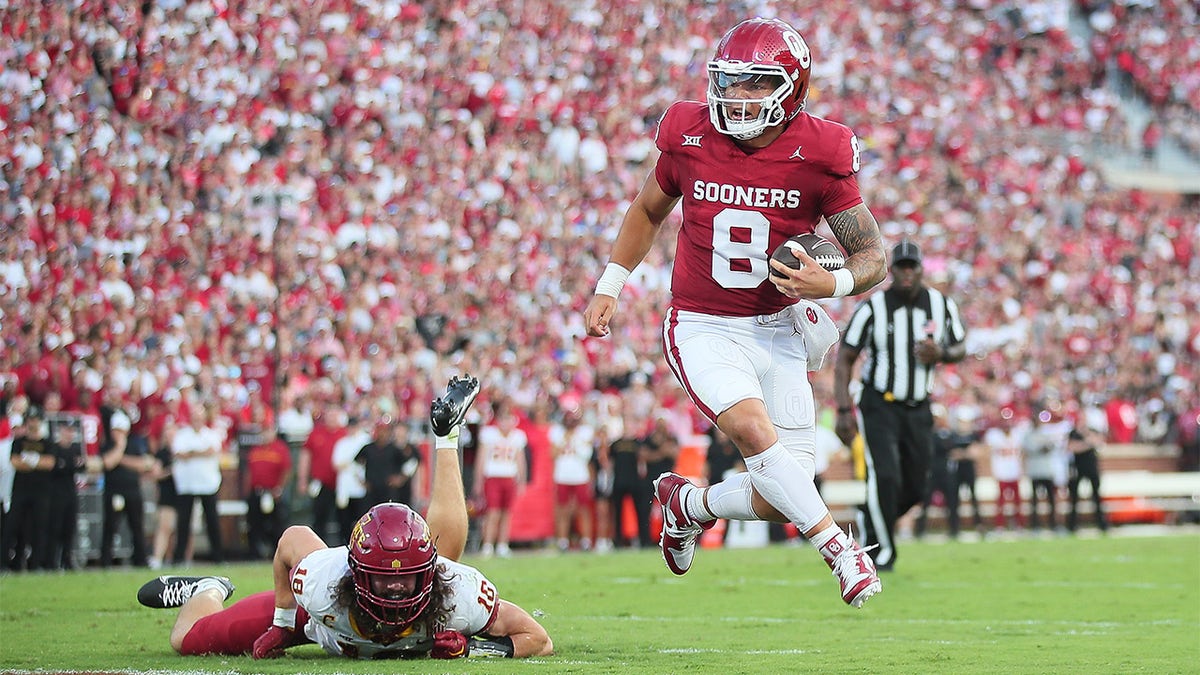 Texas destroyed Oklahoma in 2022, beating the Sooners 49-0. OU had won the previous four matchups. 
"Our vision, if we're fortunate enough to win the game, we'll be 6–0 going into a bye week with the back half of a season to go and still have a lot of work to do," Oklahoma head coach Brent Venables said Tuesday, according to Sports Illustrated. "If for some reason it doesn't work out the way we want it to, we'll still go back to a bye week and still have the back half of the season to attack and try to get better." 
Texas A&M vs. No. 11 Alabama – 3:30 p.m. ET
This midseason matchup will play a major role in who has the leg up in the SEC West. 
Both Texas A&M and Alabama are 2-0 in the SEC and both have won three straight since losses in Week 2. 
The Aggies boast the top defense in the SEC (253.8 yards allowed per game) while Alabama's offense is 11th in the conference with 363.2 yards per game. 
MEDIA COVERAGE AROUND DEION SANDERS APPEALS TO 'LOWEST COMMON DENOMINATOR,' TIM BRANDO SAYS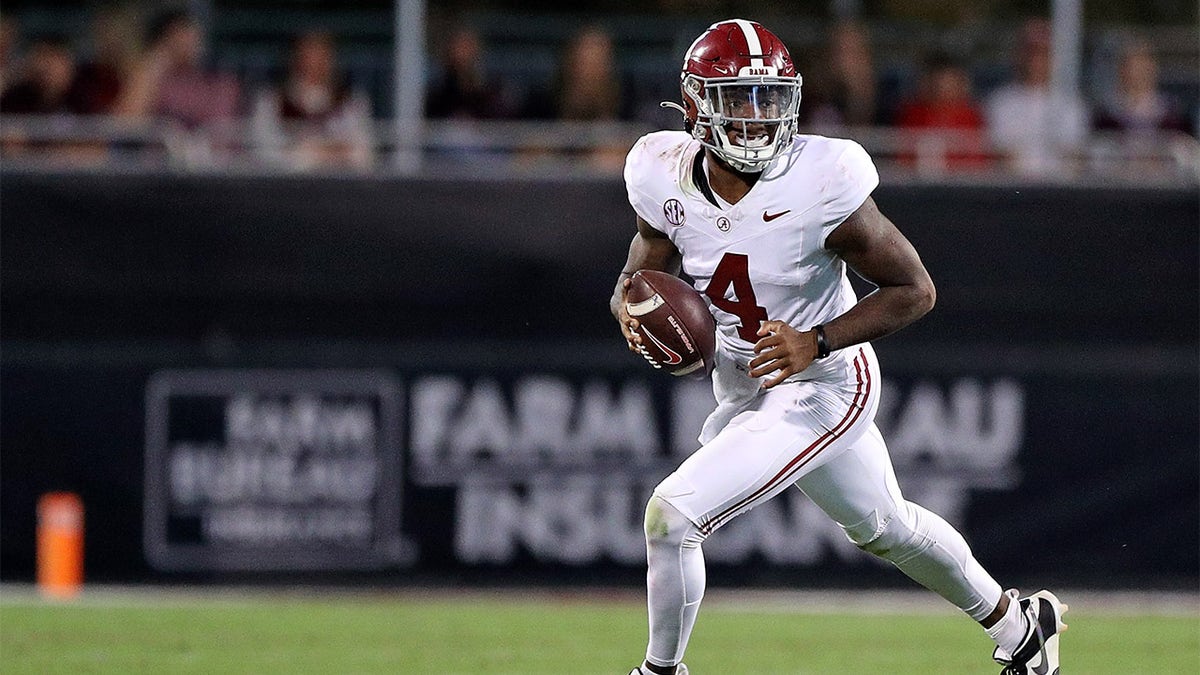 Alabama quarterback Jalen Milroe has played better in the Tide's last two wins, throwing for 389 yards, one touchdown and one interception over the past two weeks. Milroe also has rushed for 97 yards and two scores combined in the two wins. 
Milroe earned the first start of his career last year against Texas A&M when he filled in for an injured Bryce Young, and the Crimson Tide won 24-20. 
CLICK HERE TO GET THE FOX NEWS APP
"Milroe is getting better and better. Not only that, I mean, he's scrambling, keeping his head up, making plays on the scramble," Texas A&M head coach Jimbo Fisher said, according to AL.com. "When he does take off, man, it's a different level. He's as good an athlete on their football team. That's not knocking anybody else. The guy is phenomenal."
Since allowing 34 points to Texas, the Alabama defense has stymied teams, giving up a combined 30 points in the last three weeks. 
Aggies quarterback Max Johnson has taken over for Conner Weigman after Weigman suffered a foot injury against Auburn in Week 4.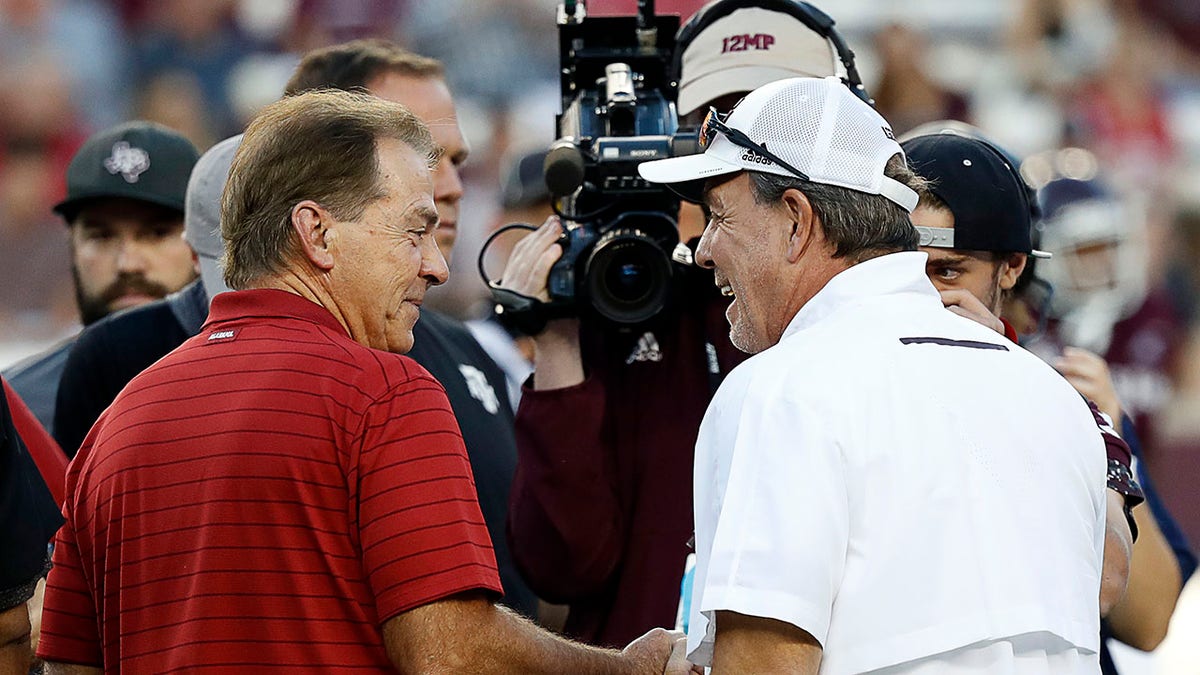 "He's a good player. He's got a lot of experience, he's smart, he makes good decisions, he's been in the system with Jimbo for a long time," Alabama head coach Nick Saban said of Johnson Wednesday, per On3. "He's a veteran player. The quarterback [Weigman] that got hurt was a very good player, but [Johnson is a] very, very good player. He's played well against us in the past.
"We have a lot of respect for him. I don't really see a lot of a difference in their ability to be productive and use their weapons that they have to run the ball effectively as well as do a good job of passing it."
Saban is 5-1 all time against Fisher, his former assistant coach. 
No. 1 Georgia vs. No. 20 Kentucky – 7 p.m. ET
The AP voters have notified Georgia its grip on the top spot is slipping. 
While the Bulldogs have won 22 games in a row, Saturday's victory over Auburn was a lot closer than most expected. 
After Week 4, Georgia received 55 of 62 possible first-place votes. On Sunday, Georgia's first-place votes were down to 35, while Michigan received 12. The Texas Longhorns got 10 first-place votes.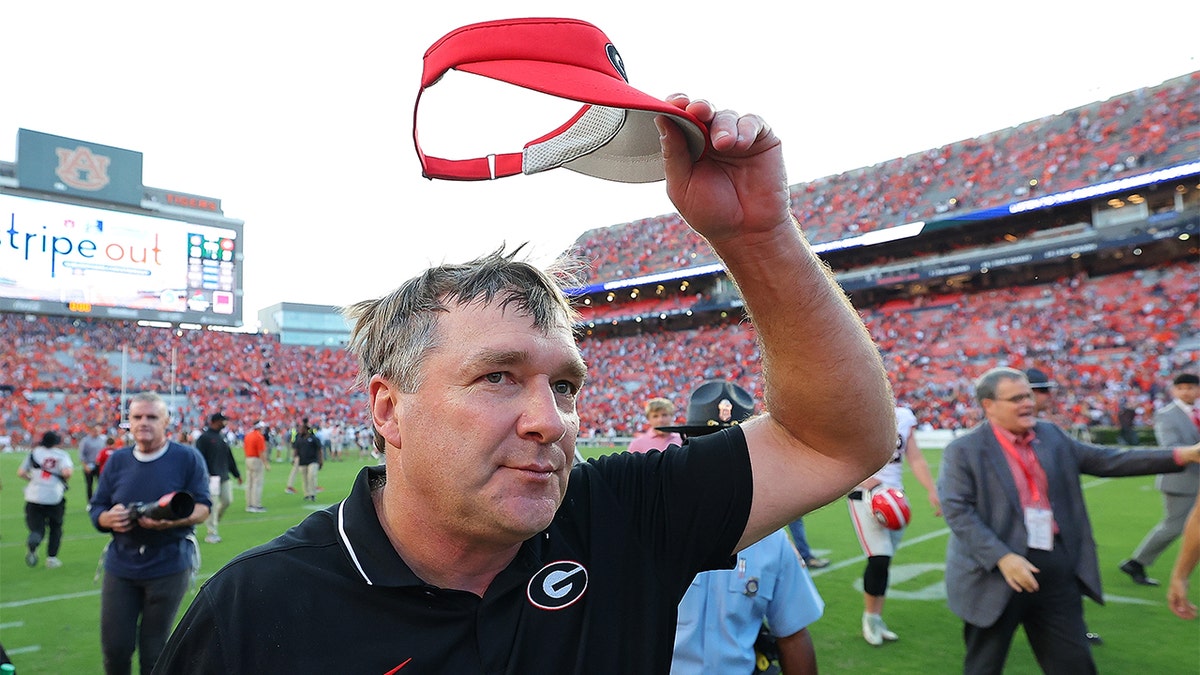 The Bulldogs are breaking in a new quarterback and offensive coordinator after back-to-back national championships, so a slight dip was to be expected. 
LOUISIANA TECH'S BREVIN RANDLE SUSPENDED INDEFINITELY AFTER STOMPING ON PLAYER'S NECK
But undefeated Kentucky arrives at Sanford Stadium Saturday 5-0 for the third time under head coach Mark Stoops as the biggest test for the Bulldogs this season. 
The Wildcats are coming off an impressive win over No. 22 Florida and will be looking for their first win against Georgia since 2009. 
"You'd have to be a moron not to appreciate what they do. They're pretty impressive," Stoops said of Georgia Monday, according to On3. "They work hard, and they do a good job of recruiting and evaluating talent. They develop their talent, and they coach them really well. So, you put those things together — it's a pretty good combination."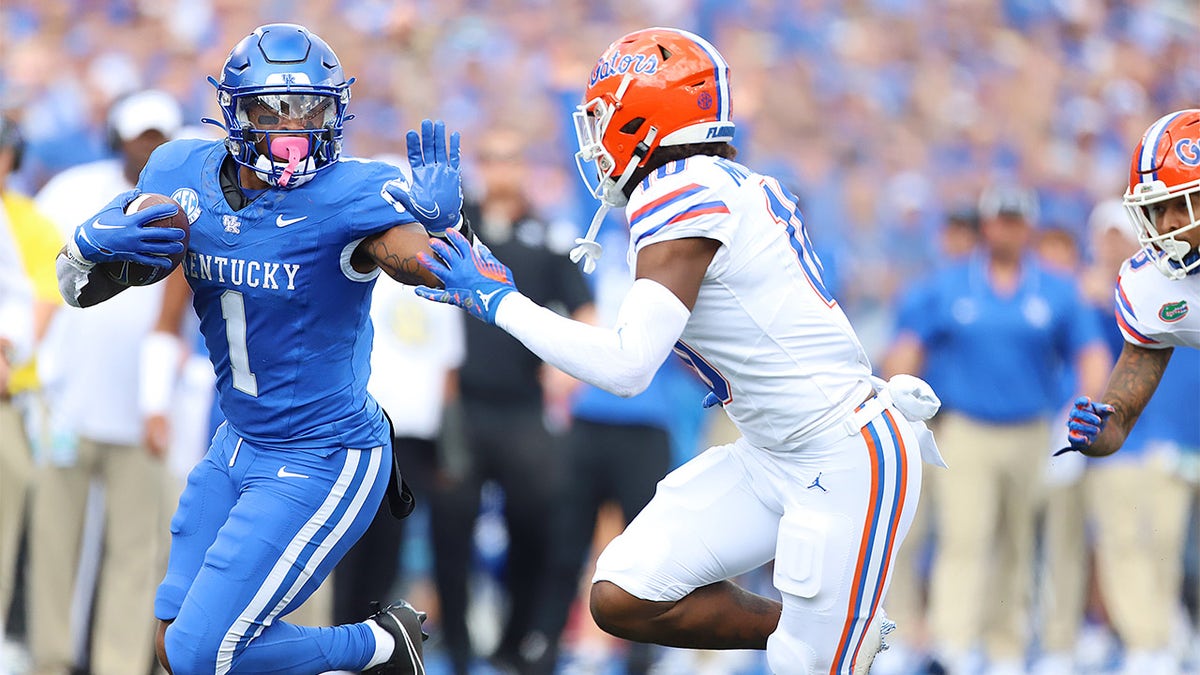 Wildcats running back Ray Davis ran wild against the Gators, finishing the night with 280 yards and three touchdowns. 
Kirby Smart had high praise for Davis this week, comparing him to former Georgia standout and current NFL running back D'Andre Swift. 
"He's aggressive in the way he runs. He reminds me of [D'Andre] Swift. He's just a little bigger," Smart said, per On3. "But he has a lot of the same cuts, one-cut runner. And they do a tremendous job now of blocking for him, so it's not all him. I mean he has a run game," Smart said.
No. 9 USC vs. Arizona – 10:30 p.m. ET
Many will feel that No. 10 Notre Dame visiting No. 25 Louisville should be the last game highlighted on the Week 6 slate. 
But a Pac-12 matchup after dark is always intriguing, especially considering the past several games between these two schools. 
While the Trojans have won the last 10 matchups against Arizona, the Wildcats have played the Trojans close the past three years, losing by one score in each game. 
HEISMAN TROPHY POWER RANKINGS: USC'S CALEB WILLIAMS LEADS PACK
The Trojans are coming off a win over Colorado that did little to end the questions about their defense, while Arizona managed to at least hang with No. 7 Washington in Tucson.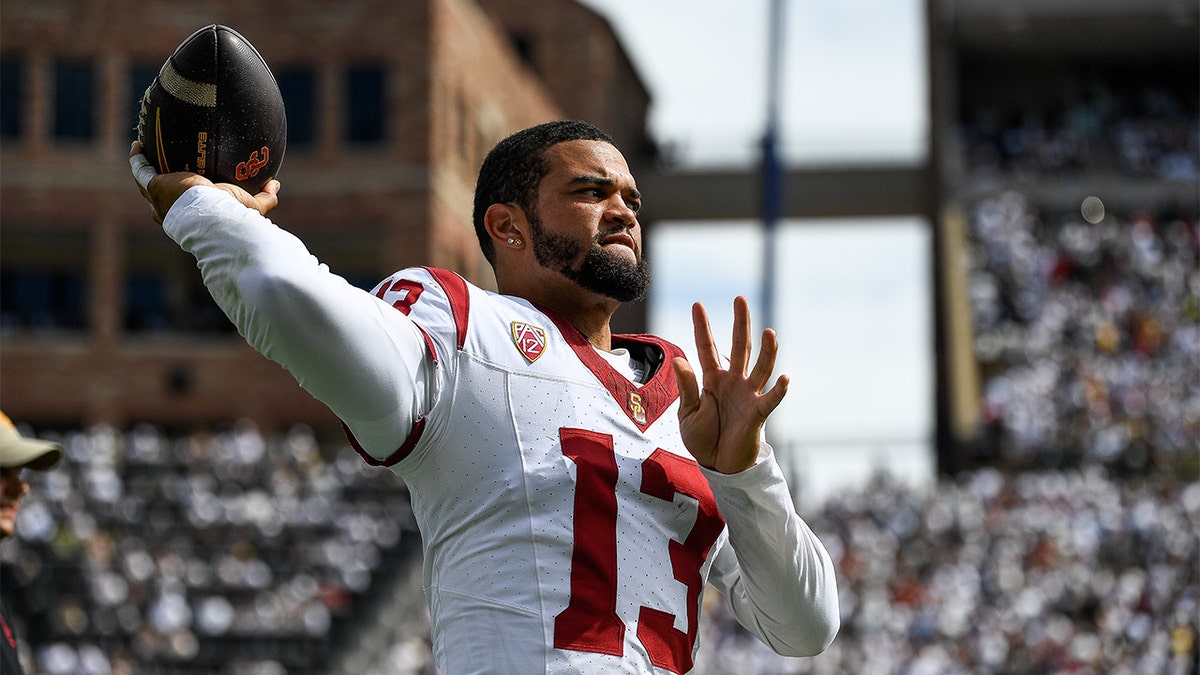 Reigning Heisman Trophy winner Caleb Wiliams hasn't skipped a beat, throwing for 1,603 yards, 21 touchdowns and just one interception. Williams' 21 touchdowns lead the country, five more than the QB in second place.
Against Colorado, Williams was spectacular, completing 30 of 40 passes for 403 yards and tying a career-high with six touchdowns.
But as USC's offense hums along, Lincoln Riley's defense is once again a question mark. 
EX-NORTHWESTERN FOOTBALL COACH PAT FITZGERALD SUES UNIVERSITY FOR WRONGFUL TERMINATION DUE TO HAZING SCANDAL
In the second half against Colorado, the Buffaloes' offense scored 27 points and gained 323 yards, getting Sanders' squad within one score late in the game. USC's defense allowed 564 yards in the game. 
"As players, we are letting him down," USC safety Bryson Shaw said of defensive coordinator Alex Grinch, per ESPN. "He's putting us in the right spot. We're not making plays. We're missing tackles. We're not doing our job."
The Wildcats are in their tough stretch of the schedule — four straight games against ranked opponents — and are dealing with an injury at the quarterback position.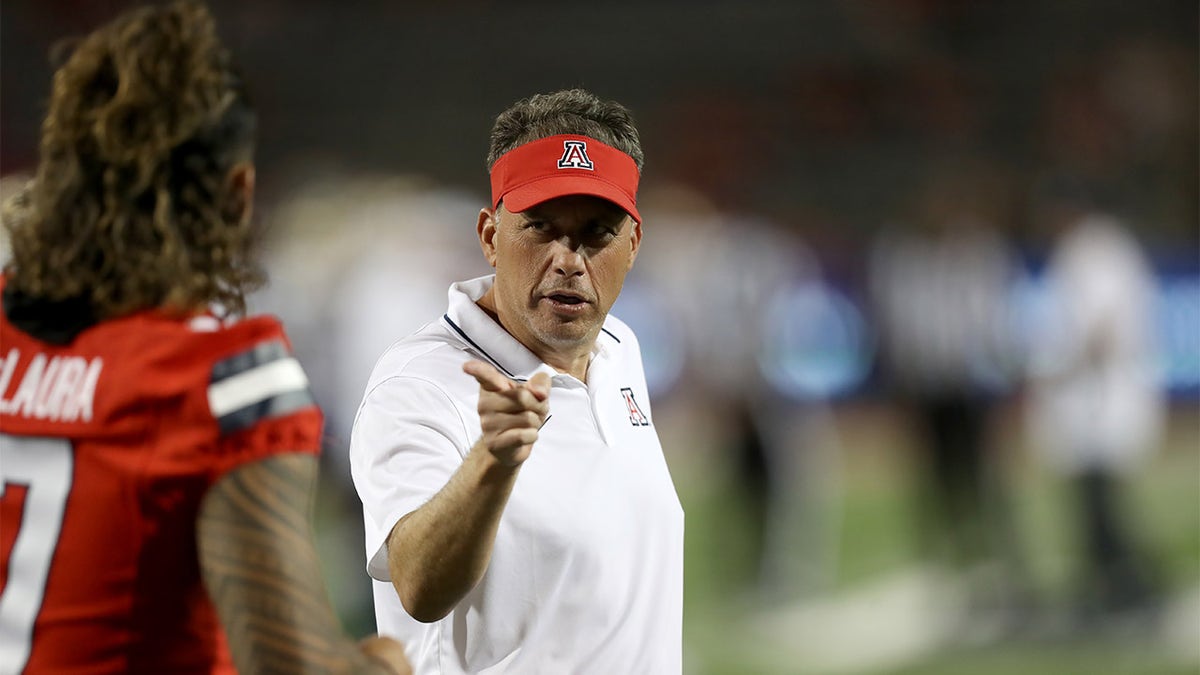 Starting quarterback Jayden de Laura missed the game against Washington after suffering an ankle injury in Week 4. Redshirt freshman Noah Fifita played well in his absence, throwing for 232 yards, three touchdowns and an interception against the Huskies. 
"For a guy that was thrown into a game that was in front of a sellout crowd, against a Top 10 team … and completed a very high percentage of passes, he did a nice job of moving the ball and threw three touchdown passes," Arizona head coach Jedd Fisch said of Fifita, according to the Arizona Daily Star. "I'm sure he would want the interception back, but I thought he played a very high level.
"It's very tough to win in those circumstances, but Noah gave us a chance to do that," he added. "I'm excited about if Noah is playing this coming week, that he'll give us a great chance to win. … If he plays this week, then he'll be a lot more experienced."
Fisch said de Laura would get the start against USC if he is healthy enough to practice this week.