FIRST ON FOX: California Republican Rep. Darrell Issa warned that the war between Israel and Hamas could escalate.
Issa — a senior member of the House Foreign Affairs Committee — spoke with Fox News Digital from a confidential location in the Middle East, where he was traveling when Israel came under sustained attack from Hamas-backed terrorists Saturday morning. Issa said he was within "a combined missile range, more from Iran" than the Palestinian terrorist organization Hamas.
Issa said that "tensions are very high" in the Middle East "with a recognition that these are Iranian-supplied" attacks.
AT LEAST 100 DEAD AS HAMAS LAUNCHES UNPRECEDENTED ATTACK ON ISRAEL, NETANYAHU SAYS NATION IS 'AT WAR'
Hamas has launched thousands of missiles, and the death and injured counts continue to mount "just at a time when Saudi Arabia has brokered much better relations with Israel but seemingly trying to lower tensions with Iran," he continued.
"And it has gotten where, sadly, the administration has been attempting to appease Iran," the California Republican said.
Issa — who is leading a resolution in the House disapproving of the Biden administration's waiver of sanctions on Iran — said the $6 billion in unfrozen funds "certainly backfilled" Iran's "expenditures, whether the money flowed through this quickly or not."
Facing criticisms for the $6 billion in unfrozen assets in light of the attacks on Israel, the White House has said that none of the funds go directly to the Iranian government, and the money is limited to humanitarian uses only.
But the scale of Hamas' attack Saturday morning, plus the second round of missiles fired in the evening, indicates to Issa that the terror group has been building and smuggling in "tens of thousands of rockets" for a long time.
Issa said he believes that the understanding that other Middle Eastern nations have come to about Israel's permanence is "irreversible," but he added that the war "will make things difficult for a period of time."
"I don't think there's any question at all that the Saudi crown prince will, in time, reach an agreement with Israel in the foreseeable future," Issa said. At the same time, Issa noted that "Saudi Arabia is using its leverage to assist the Palestinians."
"It is now going to be much harder to do something as comprehensive as they would have wanted," Issa added.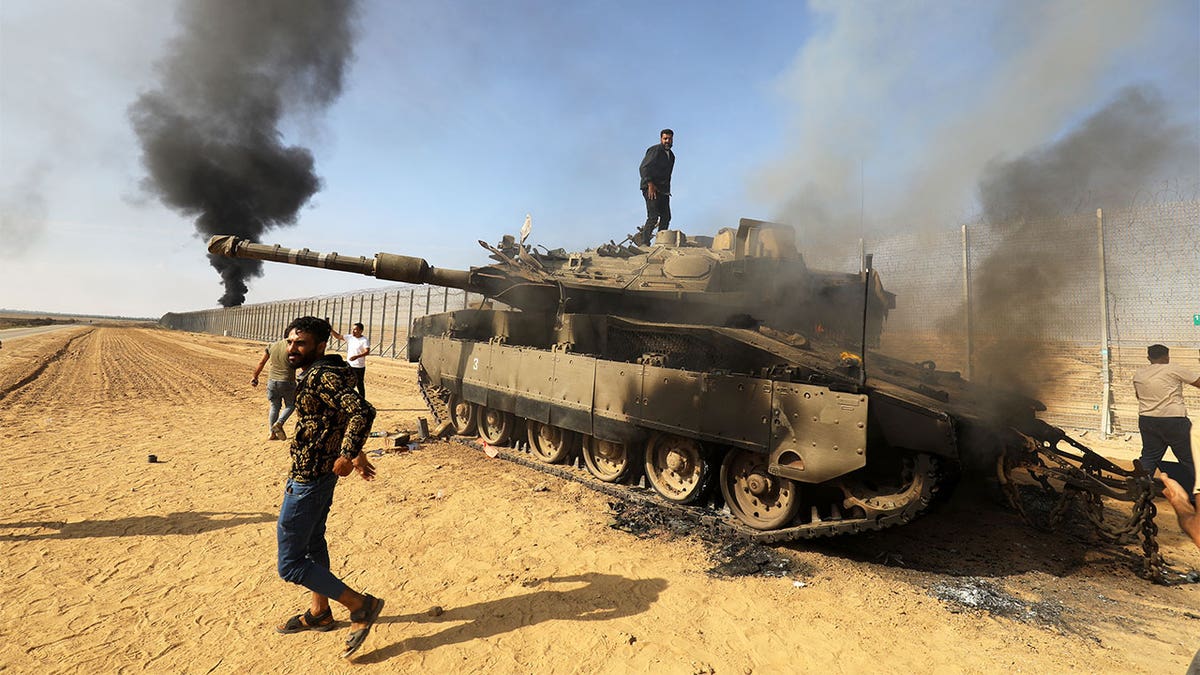 Issa said he expects the death toll on both sides to rise in the aftermath of the surprise attack amid secondary explosions.
The Republican lawmaker also said that the attack's timing "couldn't be worse" as Jewish Israelis were "genuinely at odds over a hardliner approach." He noted that the nation of Israel is now "unified, as one would expect."
Issa also said that "whenever you see aggressive attacks like this" against Israel, it "actually strengthens both the left and the right in the country."
"I do believe that there was some significance in Hamas choosing today, whether it's the anniversary of the '73 war or high holy days. There's no doubt about it: their timing appears to have been in order to be able to say they did something during this period, probably the anniversary of the '73 war as much as the significance of the holiday," Issa said.
Friday evening marked the end of the Jewish holiday of Sukkot as well as the anniversary of the beginning of the Yom Kippur War.
On the domestic front, Issa said that the two candidates for House speaker — Majority Leader Steve Scalise, R-La., and Judiciary Committee chairman Jim Jordan, R-Ohio — are strong supporters of Israel but that Americans "absolutely have to have a functioning Congress that can assist in making decisions in favor of our ally Israel."
Issa said he believes that Speaker Pro Tempore Patrick McHenry, R-N.C., "is in fact empowered" to be read into the Israel war situation alongside other legislative leaders and the Gang of Eight.
"Because decisions are going to have to be made, perhaps even before there is a formal speaker's election," Issa said.
Issa said there are "two possibilities" as to how the war shakes out, one being "Hamas recognizes, quickly, the error of their way and just get to de-escalate it."
But on the other hand, "Iran wants this to be a sustained campaign and encourages other actors in addition to helping resupply Hamas, and that makes it go on for weeks or longer," he said.
Issa added that "hopefully" other factions "will stay out of it," but also that it "is very clearly Iran's war with Israel" and that Hamas is simply a proxy.
The California Republican added that several of Israel's Arab neighbors "have chosen to make peace" with the democracy in the Middle East and that "is a strong ally that cannot be allowed to be reversed."
"And all of us have an obligation to make sure that that direction toward peace continues, regardless of Iran's attempts to derail it," Issa said.
Issa also blasted the Biden administration on X, formerly Twitter, writing that President Biden's "White House trusted Iran, gave billions in cash to the Mullahs, and emboldened Tehran's terror war against Israel."
Iranian-backed Hamas terrorists invaded areas of southern Israel as rocket barrages launched from the Gaza Strip struck the area on Saturday, killing at least 100 Israelis in an attack the Islamist movement Hamas is taking responsibility for.
CLICK HERE TO GET THE FOX NEWS APP
A senior Hamas military commander, Mohammad Deif, announced the start of the operation in which he called on Palestinians everywhere to attack the Israelis, saying in a broadcast on Hamas media that the group had launched 5,000 rockets and calling the attack "the day of the greatest battle to end the last occupation on earth."
Local Israeli media reported that at least 100 people have been killed in the wide-ranging assault, while Gaza health officials say that 198 Palestinians have died in Israeli air strikes made in response to the Hamas attack. Hospitals are treating at least 985 wounded people, including 77 in critical condition, the Associated Press reported based on public statements and calls to hospitals. 
Fox News Digital's Landon Mion, Chris Pandolfo, and Peter Aitkin contributed reporting.