Chicago residents protested Democrat Mayor Brandon Johnson's plan to house a large influx of illegal immigrants in a local field house this week. 
Frustrated locals gathered for a community meeting inside Amundsen Park field house in the city's Galewood neighborhood on Tuesday evening to speak out against the mayor's plan to house new migrants being bussed into the city after a protest earlier that afternoon.
City officials have warned the public that Chicago could start receiving up to 25 buses of migrants a day, for which Johnson is seeking makeshift housing at the field house.
Protesters, however, expressed that they do not want this surge of migrants in the facility and in other places central to their community at the event, which local FOX 32 affiliate described as "rowdy" and "contentious." 
MIGRANT NUMBERS HIT HIGHEST EVER RECORDED IN ONE MONTH: SOURCES
Many of them claim that placing migrants at the site will disrupt youth activities and other park programming that locals have been building for years.
One resident said, "You want to take the little scraps of resources we have and put us at the bottom of the barrel? That's not fair!"
She continued: "A lot of these young boys, they don't have fathers so a lot of these coaches, they are their fathers. They spend part of their weekend here along with during the week, that keeps them in a safe place, it gives them mentorship, it shows them discipline."
One gentleman urged city officials to "Turn the buses around! Turn the buses around!" Another man added, "We're not anti-migrants, but it should not be on our backs."
According to the mayor's proposal, around 200 migrants might be moved into the facility, though a date has not been set for their arrival. 
29th Ward Alderman Chris Taliaferro, one of the city officials at the meeting, said he is "strongly opposed" to the mayor's plan. His attempts to settle the frustrated crowd were not successful, the local outlet reported, noting that residents "became heated."
Community member Cata Truss ripped Johnson at the rally, stating, "What I want to say is, Mayor Brandon Johnson, we are disappointed in you. This is the community that supported you, how dare you."
GOV. KATHY HOCHUL HAS MESSAGE FOR MIGRANTS LOOKING TO COME TO NEW YORK: 'GO SOMEWHERE ELSE'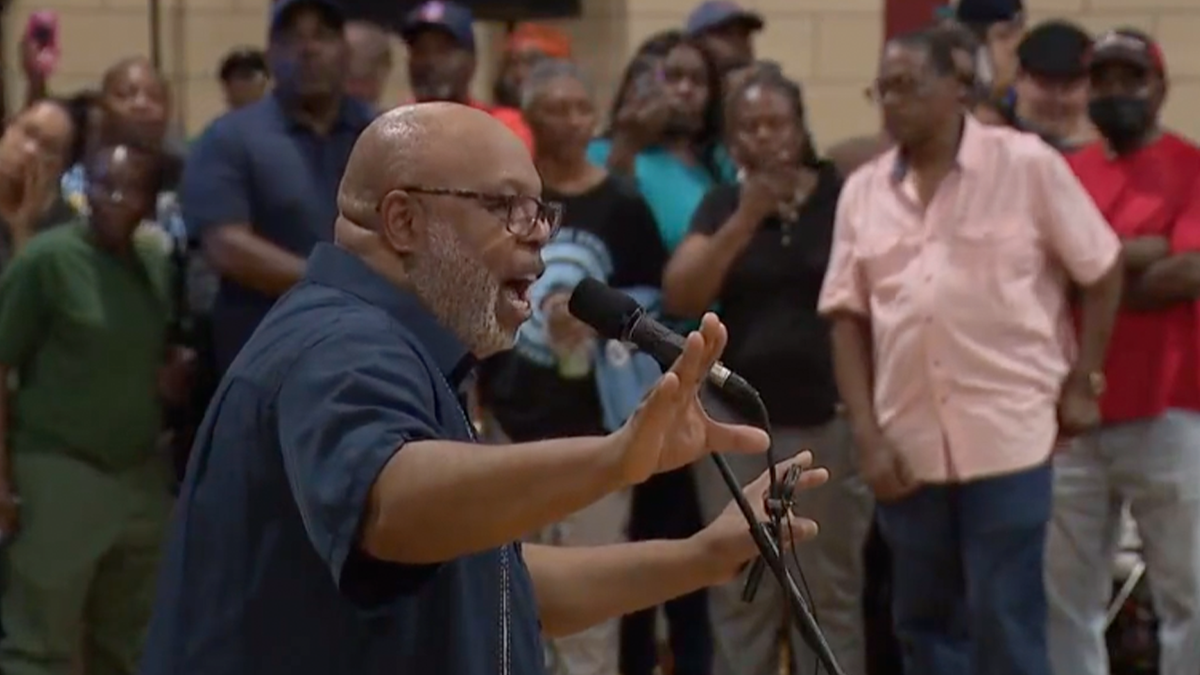 At the earlier outdoor protest, fellow community member Linda Johnson said, "We ain't having that. No! You want to tell us what to do in our park? You cannot do that! We pay our money."
Chicago has been feeling the heat of the current immigration crisis, as migrants from the southern border have been transported to the sanctuary city and surrounding areas by both the federal government and Republican border governors. 
Chicagoans showed up to a town meeting in May to condemn plans to house migrants at a shuttered high school in the South Shore neighborhood.
At a protest in Woodlawn in July, locals expressed their frustration over the behavior of migrants housed in a nearby shelter. One emotional resident told town leaders, "I would ask you all to go out there — go out there at night, in the middle of the night — and see what goes on."
Another woman vented, "They disrespect us, they rob us, they harass us."
The crisis has ballooned not only in Chicago, but in entire the state, to the point where Governor J.B. Pritzker, D-Ill., sent on open letter to President Joe Biden, criticizing the federal government for not doing enough to help his state. 
The letter read, "Unfortunately, the welcome and aid Illinois has been providing to these asylum seekers has not been matched with support by the federal government. Most critically, the government's lack of intervention and coordination at the border has created an untenable situation for Illinois."
Both Mayor Johnson and Ward Alderman Taliaferro did not immediately respond to FOX News Digital for comment. 
CLICK HERE TO GET THE FOX NEWS APP
For more Culture, Media, Education, Opinion and channel coverage, visit foxnews.com/media