Bruno Mars' sold-out concert in Tel Aviv, Israel scheduled for Saturday night has been canceled, according to the show's organizer Live Nation Israel.
The company announced that the 37-year-old singer's performance at the 100,000-seat HaYarkon Park had been called off in a post that was shared to Live Nation Israel's verified Instagram page earlier on Saturday. The concert's cancelation comes amid escalating Israeli-Palestinian conflict after Hamas militants launched deadly surprise attacks on Israel Saturday morning.
"Dear customers, Bruno Mars concert scheduled to take place tonight is cancelled. All ticket purchases to the show will receive an automatic refund to the credit card through which the purchase was made. We strengthen the residents of israel , IDF fighters and the security forces in these difficult moments," the company wrote, adding a prayers hands emoji.
Representatives for Mars did not immediately respond to Fox News Digital's request for comment.
ISRAEL'S MILITARY SAYS FORCE IS 'AT WAR' WITHJ HAMAS AS IDF HITS BACK AT TERROR TARGETS
Saturday's concert was set to be the 15-time Grammy Award winner's second performance at HaYarkon Park after he and his band the Hooligans played another sold-out show at the venue on Wednesday. In a concert review, the Jerusalem Post wrote that Mars "wowed the crowd for almost two hours" with a "dazzling" show that "brought the heart of Tel Aviv to life."
According to Israeli newspaper Haaretz, Mars delighted the audience by speaking few words in Hebrew. Mars joined the ranks of Madonna and Michael Jackson as the only artists who have played two sold-out shows at HaYarkon Park, per the outlet. 
The "Locked Out Of Heaven" hitmaker shared a photo from his Wednesday concert in Tel Aviv to his Instagram page on Thursday. In the image, Mars was seen from behind as he performed in front of a sea of concert-goers. "Last night," he wrote in the caption, along with a musical notes emoji.
LIKE WHAT YOU'RE READING? CLICK HERE FOR MORE ENTERTAINMENT NEWS
On Saturday morning, Hamas terrorists invaded areas of southern Israel as rocket barrages launched from the Gaza Strip struck the area, killing at least 200 Israelis and wounding at least 1,100 others, according to The Associated Press. Hamas soldiers also took civilians and soldiers captive in Gaza, but the exact number of hostages is unknown. The attacks took place during a major Jewish holiday, Simchat Torah.
Following the attacks, Israel's military forces launched airstrikes on Gaza in retaliation and have opened up fighting in nearly two dozen locations along the Gaza border.
In a video message early Saturday morning, Netanyahu said, "Citizens of Israel, we are at war — not in an operation, not in rounds — at war." Netanyahu's office said he would meet top security officials in the coming hours to address the operation.
During televised remarks on Saturday night, Netanyahu declared revenge against Hamas, accusing the group of wanting to butcher children and families.
CLICK HERE TO SIGN UP FOR OUR ENTERTAINMENT NEWSLETTER
Netanyahu said that the war will "take time", and that the Israeli military will pull no punches against Hamas.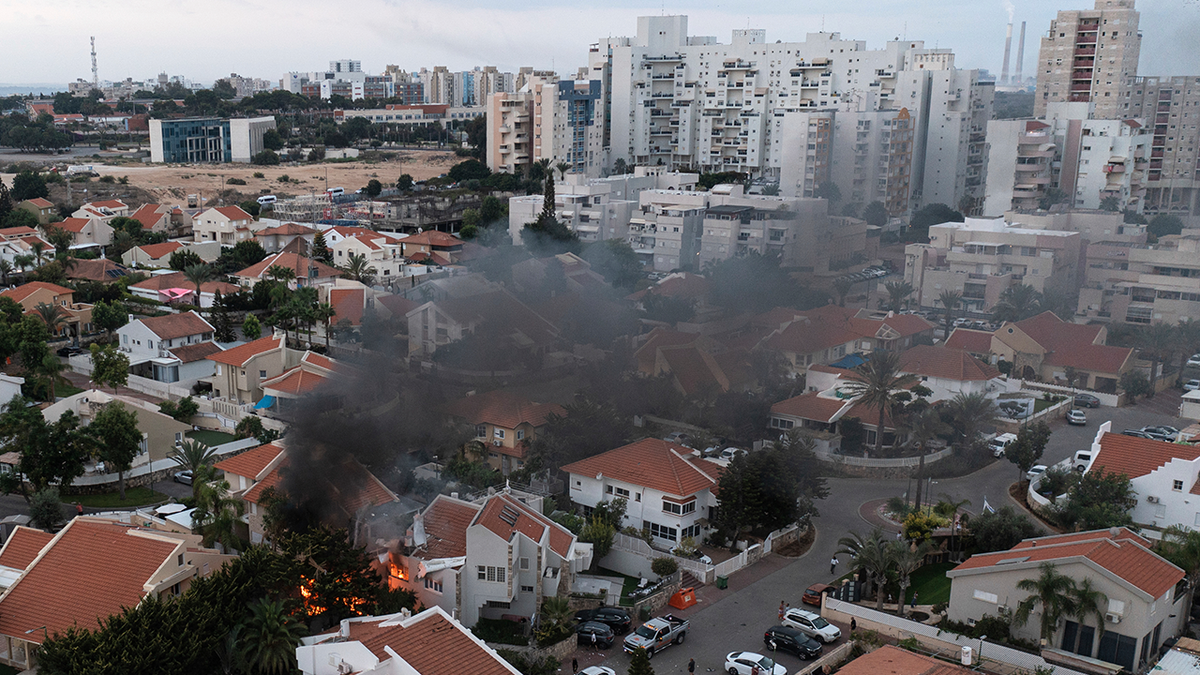 The Israeli prime minister told Hamas that they are responsible for the safety of unknown number of Israeli soldiers and civilians that are being held captive by the group.
During a speech made in Hebrew, Netanyahu vowed that he would make sure that such an attack will never happen again. He also urged Israelis in Gaza to evacuate.
CLICK HERE TO GET THE FOX NEWS APP
"We will strike back against them for this bloody black day," Netanyahu said. "All places Hamas operates will be destroyed." 
"The next days will be hard but we will prevail," he added.
Fox News Digital's Peter Aitken, Chris Pandolfo, Andrea Vacchiano, Yonat Friling and the Associated Press contributed to this report.