The absence of a House speaker amid the crisis in the Middle East, as Israel works to defend itself from an unprecedented attack by Iranian-backed Hamas terrorists, has called into question whether Speaker Pro Tempore Rep. Patrick McHenry, R-N.C., could or should receive an intelligence briefing about the situation.
A source told Fox News that the Biden administration could take the line that there is no speaker for the House of Representatives. Thus, McHenry would not qualify for an intelligence briefing.
However, Fox was also told that President Biden's team sees McHenry as credible and a responsible individual, so even though he is not speaker, the administration may be willing to brief him.
So far, there has been no call for an intelligence briefing on the Middle East for the Congressional "Gang of 8." That group consists of the House speaker, the House minority leader, the Senate majority leader, the Senate minority leader, and the chairs and top minority members of the House and Senate Intelligence committees.
FOREIGN POLICY EXPERTS CALL ON HOUSE TO SOLVE 'CHAOS,' WARN 'ENEMIES WILL BE EMBOLDENED'
That said, Senate Majority Leader Chuck Schumer, D-N.Y., is overseas on a foreign trip to China.
Fox is told that a "Gang of 7" could convene and leave the top figure in the House out, because there is technically no top figure in the House with the speakership in limbo.
Fox has also heard from multiple lawmakers and congressional sources warning of potential problems for the U.S. should there be a need to respond to the Middle East situation or another foreign policy crisis. 
The House, currently led by McHenry in its absence of a speaker, could not advance any legislative measure related to the crisis should that be necessary.
The role of House speaker became vacant earlier this week after California GOP Rep. Kevin McCarthy was ousted from the role by Democrats and a small group of Republicans.
GOP PRESIDENTIAL CANDIDATES DECLARE SUPPORT FOR ISRAEL AFTER HAMAS ASSAULT: 'JOE BIDEN FUNDED THESE ATTACKS'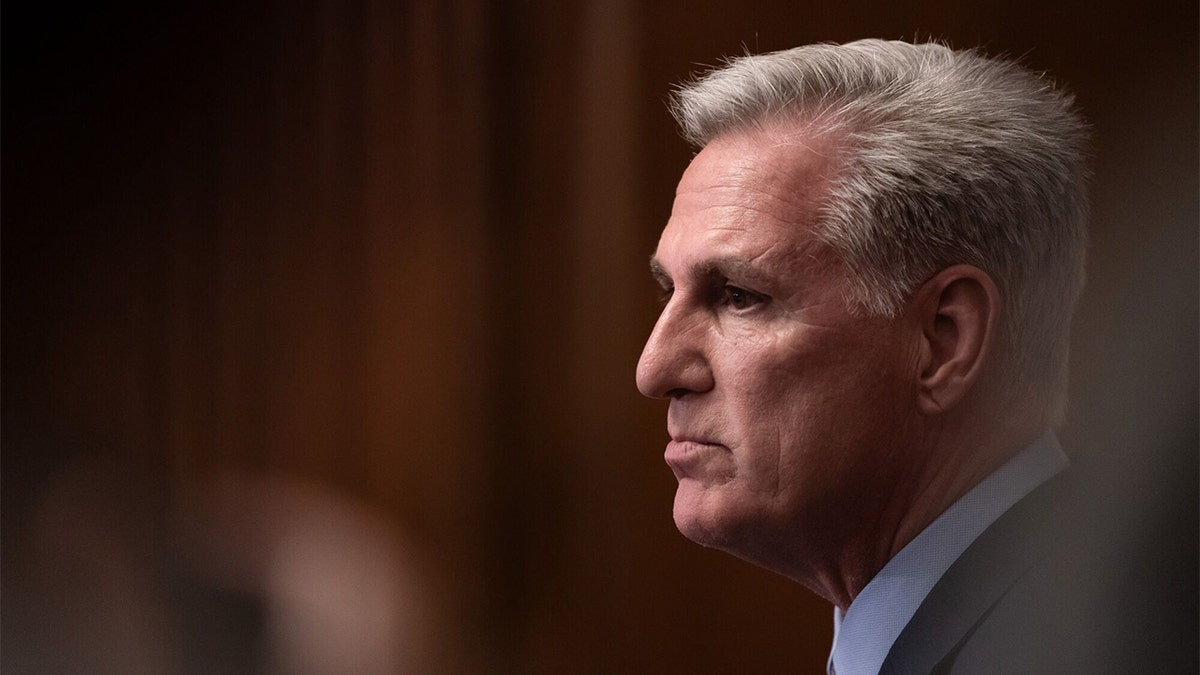 Last week, foreign policy experts told Fox News Digital that the ensuing chaos that came as a result of McCarthy's removal could lead U.S. adversaries to take advantage of the crippling state of Congress on a number of fronts.
"The chaos in the House of Representatives and the Republican caucus is doing the U.S. reputation for governmental effectiveness no favors," said Alan Mendoza, co-founder and executive director of the Henry Jackson Society, Britain's leading think tank fighting for the principles and alliances which keep societies free.
"Allies will be concerned that chronic instability appears to have infected the whole House leadership system. Enemies will be emboldened that the U.S. is going to become consumed by internal self-inflicted wounds and may move to seek advantage," Mendoza added at the time.
Eight Republicans voted with every Democrat present on Tuesday to vacate the speaker's chair, with the final vote being 216 to 210 in favor of McCarthy's ouster. McCarthy's immediate removal left Republicans scrambling to fill the role.
CLICK HERE TO GET THE FOX NEWS APP
Two Republicans – Reps. Jim Jordan of Ohio and Steve Scalise of Louisiana – have launched bids for House speaker, and a vote is scheduled for Wednesday.
Earlier this week, it was reported that House Republicans plan to hold a candidate forum on Tuesday and an election the following day.